Knee Procedures
Total Knee Replacement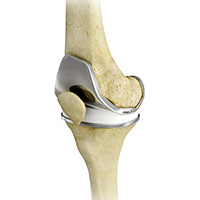 Total knee replacement, also called total knee arthroplasty, is a surgical procedure in which the worn out or damaged surfaces of the knee joint are removed and replaced with artificial parts. The knee is made up of the femur (thigh bone), the tibia (shin bone), and patella (kneecap). The meniscus, the soft cartilage between the femur and tibia, serves as a cushion and helps absorb shock during motion.
Unicompartmental Knee Replacement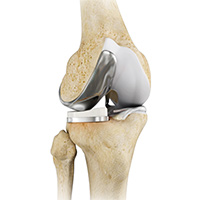 Unicompartmental knee replacement is a minimally invasive surgery in which only the damaged compartment of the knee is replaced with an implant. It is also called a partial knee replacement. The knee can be divided into three compartments: patellofemoral, the compartment in front of the knee between the knee cap and thigh bone, medial compartment, on the inside portion of the knee, and lateral compartment which is the area on the outside portion of the knee joint.
What is new in Knee Replacement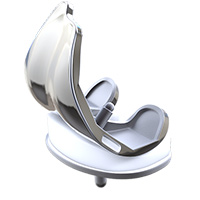 For a patient considering knee replacement surgery, there are new developments under study which can help enhance their quality of life. These include:
Use of cementless parts that allow new bone to grow into a porous prosthesis and hold the parts in place, creating a biologic fixation
Use of bioactive joint surfaces such as hydroxyapatite
Revision Knee Replacement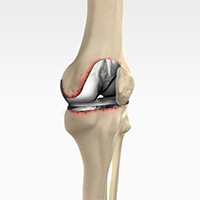 Revision knee replacement surgery involves replacing part or all your previous knee prosthesis with a new prosthesis. Although total knee replacement surgery is successful, sometimes the procedure can fail due to various reasons and require a second revision surgery.
Robotic Assisted Partial Knee Surgery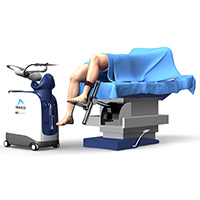 Robotic assisted partial knee surgery is an innovative alternative to the conventional surgical procedure in patients suffering from degenerative knee diseases such as osteoarthritis. It is performed using robotic-arm technology that allows the surgeon to precisely perform the surgery through a smaller incision as compared to traditional surgery.
After Knee Replacement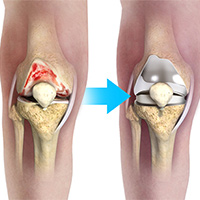 Knee replacement is a surgery performed to replace parts of a diseased knee joint with an artificial prosthesis. The goal of knee replacement is to eliminate pain and return you to your normal activities. You can help in recovery and improve the outcomes of the procedure by following certain precautions and changing the way you carry out your daily activities.
Knee Arthroscopy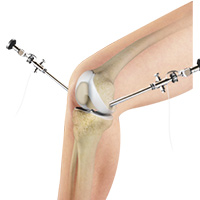 Knee Arthroscopy is a common surgical procedure performed using an arthroscope, a viewing instrument, to consider the knee joint to diagnose or treat a knee problem. It is a relatively safe procedure and most the patient's discharge from the hospital on the same day of surgery.